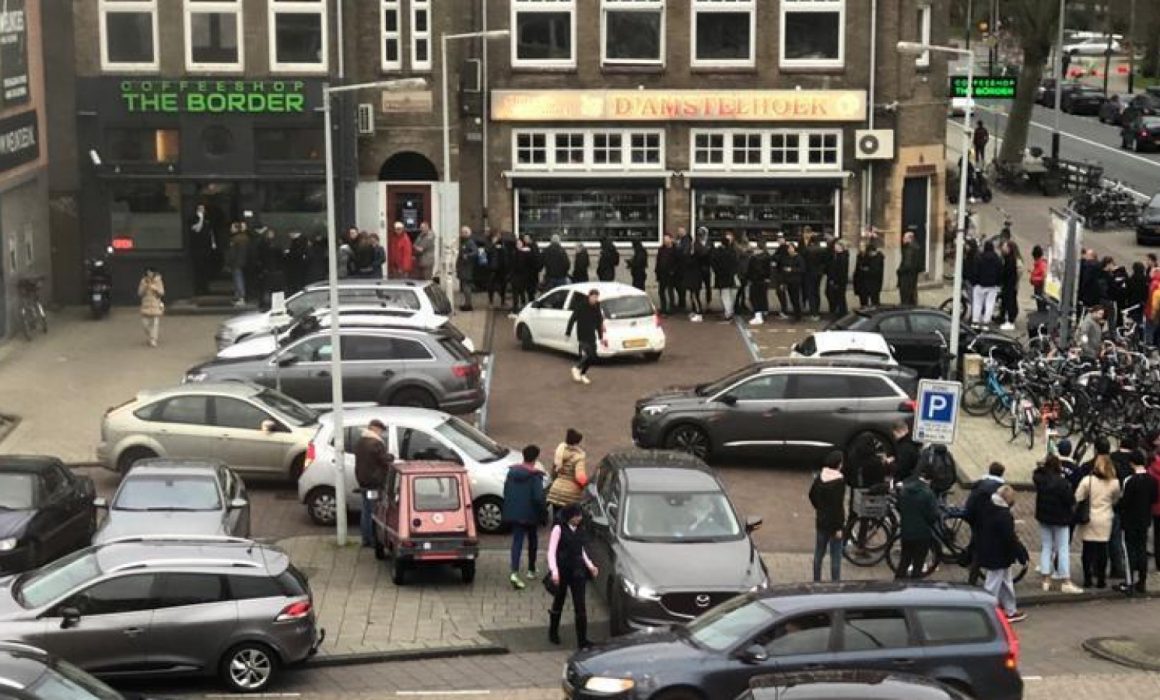 Last update: November 13, 2021
PLEASE NOTE: As of November 6, 2021, compulsory use of face masks will be in effect. This means that wearing a face mask for both visitors and staff is once again mandatory. We are currently open from 08.00 PM  to 01.00 AM.
It was shocking for all of us to hear coffeeshops were no longer allowed to be open during the beginning of the outbreak of the coronavirus in The Netherlands. Large queues sprang up in front of all coffeeshops in the Netherlands. This also happened at our coffeeshop in Amsterdam: The Border.
In once, it became clear how many people enjoy a nice joint from time to time. It's not often you see customers of coffeeshops in the news. At least not like we saw them now. Suddenly it became clear that coffeeshop visitors are people of all ages and nationalities. News reports showed students, the elderly, physical workers, and office workers. In the Netherlands, people not only lined up for toilet paper. They also hoarded their portions of weed and hash before the government closed the doors of the coffeeshops in order to prevent an uncontrollable outbreak of the coronavirus. The reason is dramatic, but the image of coffeeshops was taken to the next level in one go.
The Border had to close its doors within an hour and the result was a long line at the door. After all, everyone wanted to stock up quickly. The photo of the line in front of our shop (which we also neatly closed at 6 pm) has gone viral. We have heard that the photo has reached both the local news channel AT5, the national NOS, and even the newspaper in America, the Philippines, and Portugal.
The shops were not closed for long. Fortunately, our coffeeshop still has a very important function in society. We were therefore very happy that The Border was allowed to open its doors again for special collection under special conditions.
What has changed at The Border?
Of course, we take the coronavirus very seriously, so we have taken measures to ensure that everyone can buy goods safely from us. Some of those measures are:
A hygienic payment system
A limited number of customers inside
Our staff works with gloves
You can only pick up, you can no longer roll inside the coffeeshop
At the entrance, you can disinfect your hands 
But that's not all. To let everyone safely in and out of the building, we have indicated a route by means of posts. If everyone adheres to the route, we will not get traffic jams. Everyone can keep a good distance from each other. If it turns out that a lot of people have to stand outside to wait to get in, we will put up a tent outside in the rain to ensure that you can wait at least dry.
What has NOT changed at The Border?
Fortunately, in these strange times, some things remain the same. For example, the Border's range is still just as tasty and of the same quality as usual. This might also be the time to enjoy your joint even more and to completely forget the whole world around you and the associated misery.
The opening hours at The Border are also still the same. That is quite special because a lot of coffeeshops have had to adjust the opening hours or even have to close the doors completely due to a lack of patronage. Tourism has fallen away in one fell swoop and if that is what your coffee shop is all about, then you are currently in a really hard time.
Our current opening hours are: 8.00 AM – 01.00 AM (on all days)
Thankfully, we have a large group of regular customers that we can count on. We also notice that you work more from home and that no boss taps you when you light a joint while working. Quite a nice advantage of working from home in our opinion.
Thanks!
We are really very grateful to you, our loyal visitors. You are really the main reason our coffeeshop in Amsterdam can stay open. We do everything we can to ensure your safety and try to keep the coronavirus at bay by taking every precaution.
You can help us by continuing to buy your products from us, taking all precautions. It is not very difficult, just a bit different than usual. Together we can make sure we get through this and before you know it everything will be back to normal. Stay safe everyone, we are ready for you!
PLEASE NOTE: As of November 6, 2021, compulsory use of face masks will be in effect. This means that wearing a mouth mask for both visitors and staff is once again mandatory.